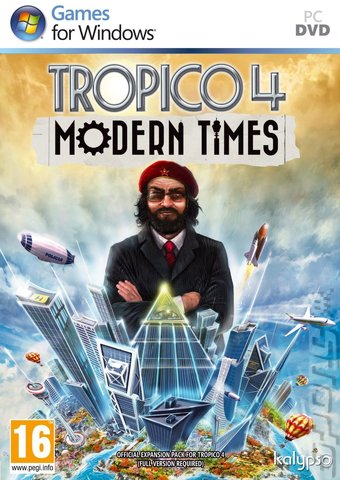 INFO-
Developer-Haemimont Games
Publisher-Kalypso Media,FX Interactive (Italy and Spain)
Series-Tropico
Platform-Microsoft Windows, Xbox 360
Release date-
Microsoft Windows-
EU August 26, 2011
NA August 30, 2011
Xbox 360-
EU October 21, 2011
NA October 18, 2011
Genre-Construction and management simulation,Political simulation game
Mode-Single-player
Rating

ESRB: T
PEGI: 16

Media/distribution-Optical disc, Download
DESCRIPTION-
Tropico 4 is a video game developed by Haemimont Games and published by Kalypso Media. It is a construction and management simulation video game, which focuses around a city building simulation. Like the first and third game in the series, the game centers on a customizable main character by the title of "El Presidente" - the dictator that runs the island banana republic.
GAMEPLAY-
Islands

The game has 10 maps, but you can make your own island by choosing "Random Island". Upon choosing random island, you may customize the size of the island, vegetation, mineral deposits, and elevation, as well as other game parameters.

There are various expansion packs which will also give you more islands.
Character Creator

After you choose the island, you may choose the avatar. You can make your own avatar. In customize characters, you may choose: gender, costumes, skin tone, hat, hairstyle, accessories, mustache, beard, earrings, traits, quality, and rise of power. After completing one mission, your current traits will level up.
Main View

The following elements are visible in the main view: minimap, population, happiness, current date, speed controls, menu button, HUD buttons, overlays, edicts, Select Avatar, almanac, task. Tropico 4 uses a standard point-and-click interface.
Overlays Button
Crops

Game's campaign comprises of 20 missions on 10 different maps. They start out with the main character, "El Presidente," having seized control of a certain island. Imports can be monitored as well as exports (whereas the previous games in the series only allowed for coverage on exports). Tropico 4 includes more superpowers.A council of ministers exists which the player can consult on a range of different issues. The player will have to deal with natural disasters and the demands of different political factions each with their own ideological outlook. A Steam only version will be made which includes another island for sandbox mode and another pair of clothes for your Custom El Presidente. It is set to come out for purchase 1 day after the release date.In the new game, there will be 20 new buildings including a shopping mall.
PLOT-
The game follows the protagonist, El Presidente, as he works towards restoring the power that he lost in the Caribbean after averting a Nuclear War perpetrated by the US Vice President to rise to power. It is "Divided" to three different Acts:

Rise To Power: El Presidente arrives at his new island where he begins his goal to build an ideal nation for his people. To do so, he established many forms of economy across several islands that he governs. However, he was ousted from power when he was framed by the UN for the murder of the current president. He was then forced to flee his country and head off to other parts of Tropico.

The Revenge: Forced to take a new identity and fleeing his republic. El Presidente begins his revenge by establishing a base of power at Isla Oscura. There El Presidente targets several conspirators, Keith Preston, the CEO of Fruitas (A parody of the United Fruit Company), The rebel leader Marco Moreno (A parody of Che Guevara), UN Inspector Brunhilde Van Hoof and Generalissimo Santana. It was then he learned of the truth and returns as El Presidente once more.

Return to Power: Now that El Presidente has gained his power back. He begins his attempt to rebuild his nation. However around that time, the Perestroika hits the USSR and Tropico offers their assistance to the nation in exchange for truth about the assassination plot. El Presidente finds out who set him up and Nick Richards was soon assassinated for being responsible in the assassination. El Presidente then puts the final touches and builds an island nation that is one of the better off ones...so long as his rule lasts...
EXPANSION-
An expansion, titled Modern Times, was released on March 27th, 2012. It features a new single-player campaign which takes place a year after the events of Tropico 4.After El Presidente's success in rebuilding Tropico, Penultimo predictably runs the entire nation to the ground in the middle of the 2008 economic crisis, the 2011 England riots and another famine in Africa. Little did he know there is an illuminati behind all of this and it is up El Presidente to help save the world again while lining his pockets.
RECOMMENDED SYSTEM REQUIREMENTS-
OS: Windows Vista / 7 (32 or 64-bit)
Processor: 2 GHz Quad Core CPU
Memory: 2 GB RAM
Graphics: Shader Model 3.0 (Geforce 8800 or higher, Radeon HD4000-Series or higher), 512 MB, DirectX 9.0c
DirectX: 9.0c
Hard Drive: 5 GB free hard disk space
Sound: DirectX compatible

Ripped by: z10yded
Ripped: other languages
Recode: None
Languages: Tropico 4:Russian,English Modern Times:English
Version: 1.5
Size: 2.73 GB
DOWNLOAD
Password-mediafire-gamer.blogspot.com
SCREENSHOTS-
TRAILER-