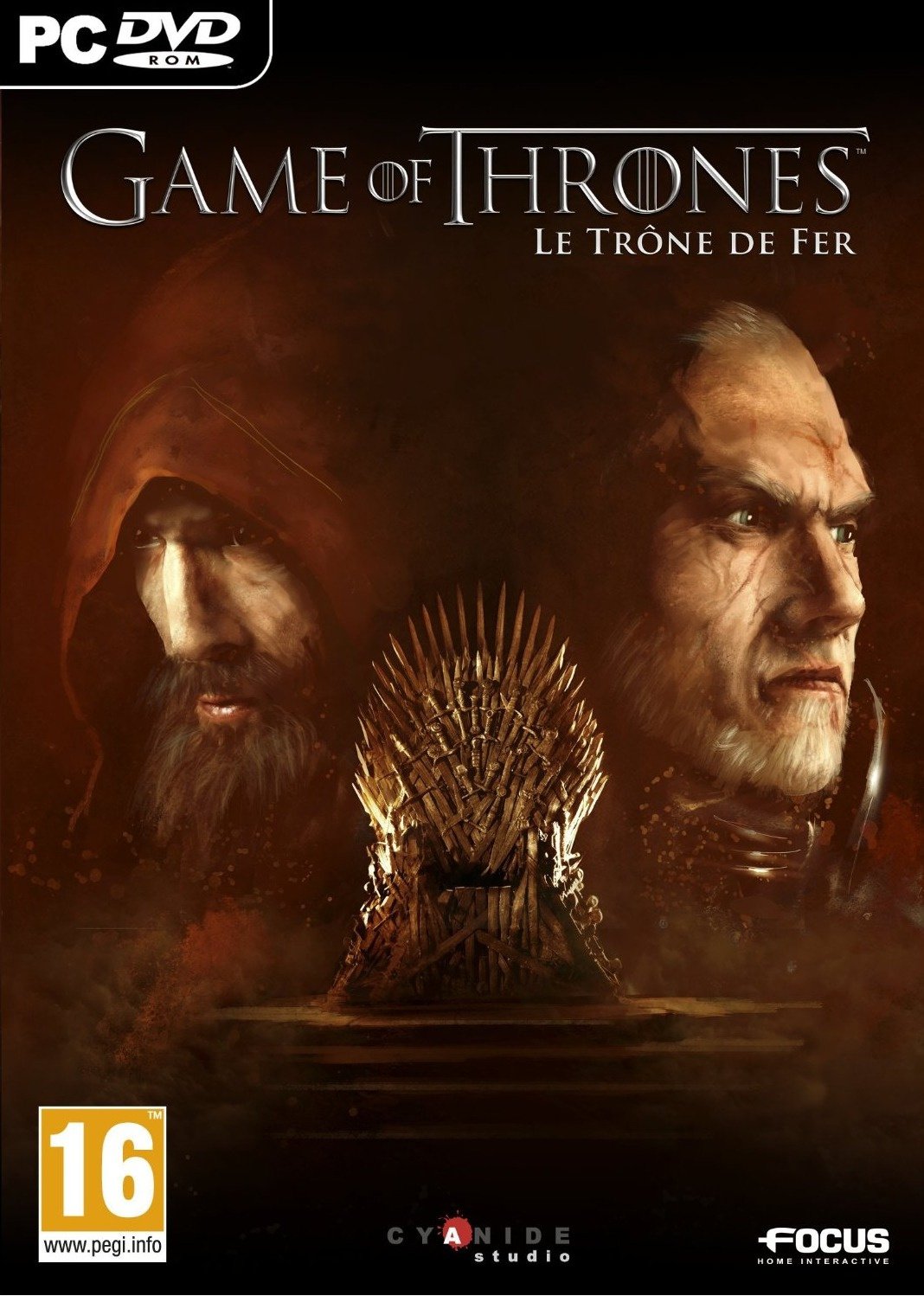 INFO-
Developer-Cyanide
Publisher-NA Atlus
EU Focus Home Interactive
AU Focus Home Interactive
Engine-Unreal Engine 3
Platform-Microsoft Windows,PlayStation 3,Xbox 360
Release date-NA May 15, 2012
EU June 1, 2012
AU June 7, 2012
Genre-Role-playing
Mode-Single-player
Rating-
ACB: MA
BBFC: 15
ESRB: M
PEGI: 16
Media/distribution-Digital Distribution, Optical disc
STORY-
The story of A Game of Thrones takes place during the first book of the saga, at the time when Jon Arryn, the Hand of King Robert Baratheon, is found dead at King's Landing. The game allows players to follow two epic quests: Mors and Alester's quests. Their totally original story was canonized by George R.R. Martin himself and perfectly integrates the original story the fans are so familiar with in the series. All throughout the game, the numerous references to books, characters and famous locations form an impressive Westeros encyclopedia, which players can consult at any time during their adventures.
Mimicking the books, the two heroes' stories are told alternatively, chapter by chapter, each character sharing the role of main character… up until their paths cross during a common quest. Welcome to a totally innovative narrative style for an RPG.
Whether with Mors, sworn brother of the Night's Watch, or Alester, the Red Priest on a quest for redemption, A Game of Thrones' stories will delight all players. Throughout the game, players will discover these charismatic characters with shattered destinies. Their epic quests will be guided by vengeance, allegiance, honor, and family throughout scenarios packed with suspense, twists and turns, betrayals and action! In addition, players' choices and decisions will have specific consequences on the rest of the adventure, so think well before acting!
During over 30 hours gameplay, our heroes will travel through mythical locations from the series (The Wall and its surroundings, the Night's Watch Castle Black, King's Landing and Red Keep among others) where they will meet famous characters such as Jeor Mormont, the master of spiders Varys, or Cersei Lannister. Westeros will once again be the theater of an exceptional adventure, faithfully transcribing the unique atmosphere of one of the most developed and impressive universes of medieval-fantasy literature: that of A Song of Ice and Fire.
THE PRODUCTION-
Developed with the Unreal Engine 3, A Game of Thrones displays a visual environment that does justice to the universe of A Song of Ice and Fire. From textures to environments, from animation to characters, and to light effects… A Game of Thrones is a game with impressive visuals on both consoles and PC. The Wall, the Northern snowbound forests, King's Landing, and Red Keep have never seemed so real! One glance will be enough to plunge fans of the series into the mythical locations they already know so well.
Motion-capture, voice acting for each character encountered and lip-sync will bring all the inhabitants of Westeros to life and will actively participate in immersing the player in a huge, mind-blowing universe.
FEATURES-
A Game of Thrones has all the essential ingredients for a great role-playing game: choose your characters' classes and their style of combat, find the right balance between your strengths and weaknesses, and prepare yourself for epic fights! Obtain the best gear, weapons and armor adapted to your personal approach to combat and gain experience to improve your skills or learn new ones.
Both playable characters also have unique skills. During the exploration phases, Mors will be able to slip into his faithful dog's mind thanks to his "Skinchanger" power and thus control the animal in order to track down his prey, dig up objects and weapons buried in the ground, or follow numerous trails that will open up side quests. Mors' dog will also be very useful during combats!
As for Alester, he can call on his red priest powers, which give him powerful magical fire spells, useful for inflicting devastating attacks on enemies during combats and flushing out hidden objects or doors.
In A Game of Thrones, political talent will prove to be as sharp as a sword, so don't underestimate the power of dialogue to get you out of a critical situation! Therefore, combats and also well-managed dialogues will earn you experience points that will help you develop your characters.
Boost your attributes, learn new skills to enlarge your palette of special tricks and become a fearful fighter in the combat style you chose when you created your character.
Exploration is also a part of the game…so don't forget to meticulously inspect every detail of the environment as well as the bodies of your fallen enemies in order to collect precious objects (weapons, armor, potions, archives…) and gold dragons that you can spend with traveling merchants. The numerous side quests that will be offered throughout your adventure will also permit you to recover many bonuses and valuable equipment!
RECOMMENDED SYSTEM REQUIREMENTS-
OS: Windows XP Sp3/Windows Vista SP2/Windows 7
Processor: AMD/Intel Dual-core 2.2 Ghz
Memory: 2048 Mb
Graphics: 256 Mb 100% Directx 9 And Shaders 3.0 Compatible. Ati Radeon Hd 2600 Xt/nvidia Geforce 7900 Gtx Or Higher
Directx: 9
Hard Drive: 4 GB
Sound: Directx 9 Compatible
Repacked by: R.G. UniGamers
Type: Lossless
Language: English (Multi5 Text?)
Crack: 3DM
Size: 2.08 GB
MEDIAFIRE
PASSWORD-ggamezbb.blogspot
BILLIONUPLOADS
PASSWORD-mediafire-gamer.blogspot.com
SCREENSHOTS-
TRAILER-